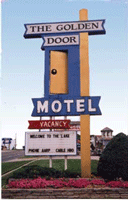 For reservations, please call and give the dates you desire and the number of people in your party. There is a maximum number of people allowed in the rooms. All reservations must be accompanied with the price of one night's lodging. For refund of a deposit, cancellation must be made 24 hours in advance of arrival date. For your convenience, we accept MasterCard, VISA, American Express, Discover and Diners Club credit cards.
All rooms are pool side and we offer both smoking and non-smoking rooms. You will find photos of some of our accommodations at the bottom of this page.
Join our family of satisfied customers, and let us help you enjoy your vacation at the lake. It will be our pleasure to serve you.